Compare the Hyundai Elantra to the Honda Civic In Metairie LA

Compare the New 2019 Hyundai Elantra to the 2019 Honda Civic
If you're looking for an affordable new car that's more than a way to get from point-a to point-b, look to the new lineup of 2019 Hyundai Elantra models at Hyundai of Metairie. The new 2019 Hyundai Elantra packs a large punch for a small price, offering stylish good looks, a refined, comfortable and high-tech interior and multiple engine options ranging from highly efficient to athletic and fun. Whether you want to enjoy your morning commute from Metairie into New Orleans more than ever, you want to take advantage of all the latest technology features for less or you want to get the most value out of your next car, with so many different options to choose from and such an affordable price tag to boot, we're sure that we can help you find the 2019 Elantra model that's right for you in no time! To provide you with some perspective surrounding the 2019 Elantra and the unique level of value that it can provide you with, we're going to compare it to the new 2019 Honda Civic, highlighting some of the many ways that the Elantra is better suited to cater to you!
2019 Hyundai Elantra vs. 2019 Honda Civic
The new 2019 Elantra is more affordable than the Civic is. The Elantra starts at just over $17,000, allowing it to fit any budget with ease. The Civic, on the other hand, starts at just under $19,500, allowing you to save or even upgrade to the Elantra SEL trim level for a similar price as the base Civic.
Both vehicles offer many different safety and driver assist features throughout their lineups, but the Elantra offers a number of features that you won't find on the Civic, including LED steering responsive headlights and blind-spot detection with rear cross-traffic alert, providing you with greater coverage to monitor the road around you and alert you of potential hazards.
The Elantra is the only vehicle in its class to offer a hands-free smart trunk, allowing you to open the trunk of the car simply by standing in the area for three seconds with your proximity key on you, so you never have to fish for your keys or put what's in your hands down.
When it comes to warranty coverage, the Elantra outshines the Civic with ease. Every new Elantra model comes with a 5-years/60,000 new vehicle warranty and a 10-year/100,000 mile powertrain limited warranty, offering you coverage on thousands of different components and parts so you can drive with confidence long into the future. The Civic falls vastly short in comparison, offering a 3-year/36,000 mile new vehicle warranty and a 5-year/60,000 mile powertrain limited warranty.
Beyond the warranty, the Elantra also comes with 5-years/unlimited miles of roadside assistance. The Civic only offers 3-years/36,000 miles of roadside assistance.
Both vehicles offer impressive fuel economy both in the city and on the highway, but the Elantra offers 14 gallons of fuel capacity, while the Civic offers 12.4 gallons of fuel capacity, allowing you to enjoy more of your trips between Kenner and Slidell without having to stop and fill up.
Test Drive a New 2019 Hyundai Elantra at Hyundai of Metairie Today!
With six different trim levels, multiple engine options and so many other features offered throughout the lineup, if you want to learn more about the new 2019 Hyundai Elantra and which one is the best fit for you, we welcome you to come test drive a model of your choice at Hyundai of Metairie today!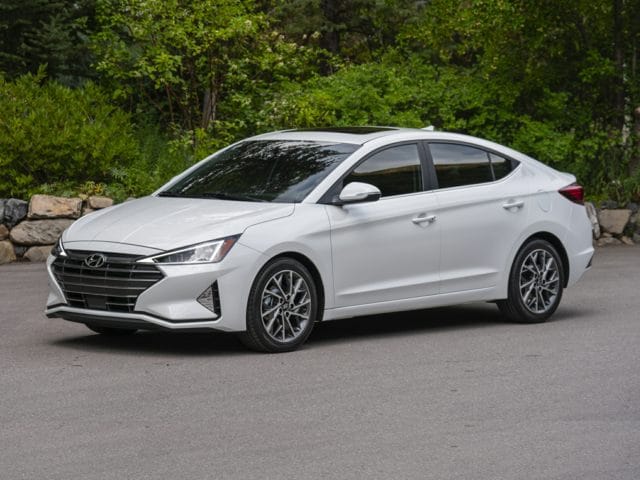 Sales Desktop Hours
504-655-9432
| | |
| --- | --- |
| Monday | 9:00 am - 8:00 pm |
| Tuesday | 9:00 am - 8:00 pm |
| Wednesday | 9:00 am - 8:00 pm |
| Thursday | 9:00 am - 8:00 pm |
| Friday | 9:00 am - 8:00 pm |
| Saturday | 9:00 am - 7:00 pm |
| Sunday | Closed |
Sales Mobile Hours
504-613-4526
| | |
| --- | --- |
| Monday | 9:00 am - 8:00 pm |
| Tuesday | 9:00 am - 8:00 pm |
| Wednesday | 9:00 am - 8:00 pm |
| Thursday | 9:00 am - 8:00 pm |
| Friday | 9:00 am - 8:00 pm |
| Saturday | 9:00 am - 7:00 pm |
| Sunday | Closed |
Service Desktop Hours
504-577-2835
| | |
| --- | --- |
| Monday | 7:00 am - 6:00 pm |
| Tuesday | 7:00 am - 6:00 pm |
| Wednesday | 7:00 am - 6:00 pm |
| Thursday | 7:00 am - 6:00 pm |
| Friday | 7:00 am - 6:00 pm |
| Saturday | 7:30 am - 4:00 pm |
| Sunday | Closed |
Service Mobile Hours
504-784-6456
| | |
| --- | --- |
| Monday | 7:00 am - 6:00 pm |
| Tuesday | 7:00 am - 6:00 pm |
| Wednesday | 7:00 am - 6:00 pm |
| Thursday | 7:00 am - 6:00 pm |
| Friday | 7:00 am - 6:00 pm |
| Saturday | 7:30 am - 4:00 pm |
| Sunday | Closed |
Parts Desktop Hours
504-655-9445
| | |
| --- | --- |
| Monday | 7:00 am - 6:00 pm |
| Tuesday | 7:00 am - 6:00 pm |
| Wednesday | 7:00 am - 6:00 pm |
| Thursday | 7:00 am - 6:00 pm |
| Friday | 7:00 am - 6:00 pm |
| Saturday | 7:30 am - 4:00 pm |
| Sunday | Closed |
Parts Mobile Hours
504-577-2774
| | |
| --- | --- |
| Monday | 7:00 am - 6:00 pm |
| Tuesday | 7:00 am - 6:00 pm |
| Wednesday | 7:00 am - 6:00 pm |
| Thursday | 7:00 am - 6:00 pm |
| Friday | 7:00 am - 6:00 pm |
| Saturday | 7:30 am - 4:00 pm |
| Sunday | Closed |