Hyundai Of Metairie Cares About The Community We Serve in Metairie, LA
Local Memberships And Sponsorship
If you're looking to learn more about our community involvement near New Orleans, Louisiana, contact our Hyundai dealership in Metairie. We love helping out the communities of New Orleans and the Lower River Parishes. It is our pleasure to build up the communities we serve through charitable events, non-profit fundraisers, and more. If you have an event that you think we would be able to contribute to, call now.
Hurricane Ida Damage Relief
Our community has seen a fair share of hurricanes over time and this season didn't hold back. Most of the community, including our dealership, has been affected by recent storms like Hurricane Ida and we want to give back to those who have helped us over the years now that we are capable. If your vehicle was also affected by Hurricane Ida, we want to do all we can to help you get back on the road to recovery. Whether you need your car repaired at our service center or need to replace your car with one from our new or used inventory, our team will do all we can do to get you the help you need.
Stuff the Trailer
Hyundai of Metairie is proud to sponsor the Boys and Girls Club of SE Louisiana Donation Drive. Committed to lifting up the youth in our community, our team here at our Hyundai dealership in Metairie gathered toys and essential items to donate to children in need for the 2021 Christmas holiday. Thank you to everyone who was able to help make this donation drive a success!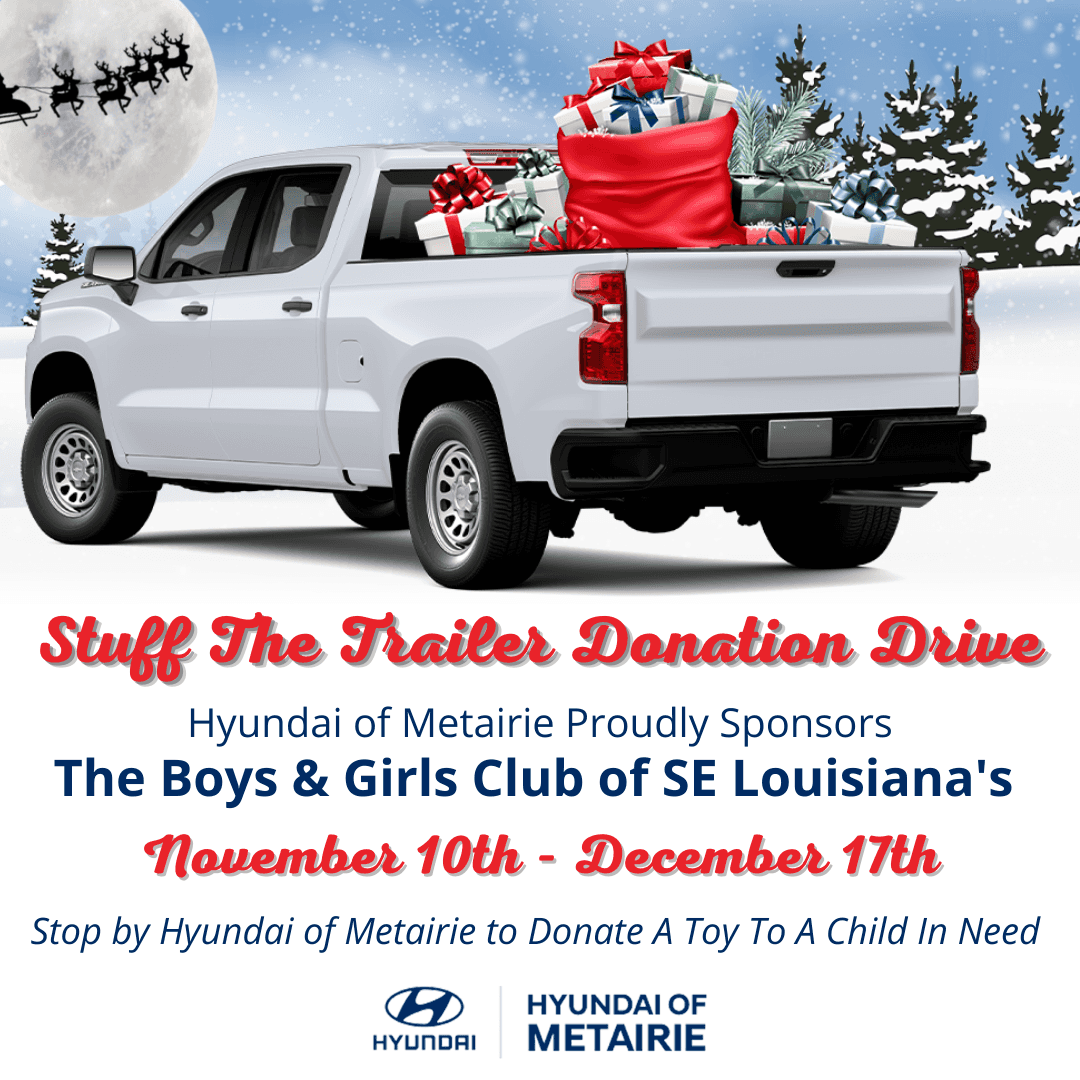 We're Here To Spread Awareness
Our team wants to help make the world great. We are always looking for different charities and fundraisers to assist. If you're the head of an initiative and you think that we can help you spread the word or want to discuss a potential sponsorship opportunity, reach out to Hyundai of Metairie. You can contact us online or by phone to get started.